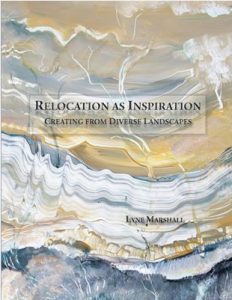 This 80 page book, illustrated with over 70 full colour images of art and travel locations, heads out on the road and back into the studio, and captures the creative mind in full flight. We accompany artist and author, Lyne Marshall, as she explores her ancestral past, her love of Australia's wild places and the history embedded in the landscape. Her musings on relevant topics that relate to creativity, and the gathering of inspiration for creating artworks for the RE:Location exhibition, fill the pages with stories we all can relate to.
Edited by Peter Marshall, with a Foreword by Tony Barber, who writes, 'Lyne Marshall is an artist gifted with that rare talent of being able to control what can happen when paint, colour, balance, memories, locations and an intelligent imagination are blended, and then applied to a flat surface. The results can be magical.'
To view some one page PDF's from this book or order it please go to the Publications page on Lyne Marshall's  Artclique website.