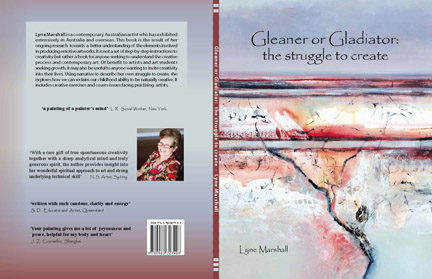 Gleaner or Gladiator : The Struggle to Create is an 80 page full colour book on the creative journey from an artist's perspective.
Lyne Marshall is a contemporary Australian artist whose ongoing research into creative processes has inspired, comforted and supported those who seek to claim artistic vision in a natural, free and innovative way. This book addresses the artistic journey, from study to the studio and on to the gallery, a road often fraught with obstacles.
Lyne takes the reader through the physical, psychological and spiritual aspects of creating while pondering on the positive aspects of finding true direction and focus. She has always been fascinated by the way things come together in the act of creating. For her own growth she has researched, over many years, the processes that occur both in and out of the art studio and her any insights have been published in her three books.
Gleaner or Gladiator was the first, published back in 2007 and sold out. Still in demand it has been reprinted and is available to buy now from the  ART CLIQUE  website and also as a kindle e-book from Amazon.com, and other E-book sites.  It is now on many bookshop online webpages worldwide.
If you download the free reader available on the same page you can read this book on your computer or IPad
You may find Gleaner or Gladiator is  available in print in selected bookshops, art shops and Regional Galleries in Australia. Lyne's other books are available in shops including the National Gallery bookshop in Canberra, the Queensland Art Gallery and GOMA in Brisbane and as far afield as Cairns Regional Gallery and Kick Arts, Art Geo in Busselton in WA and Reyburn Gallery in Whangarei N.Z.
Read the TESTIMONIES  here
Short PDF"S  available here on the  GLEANER Web Page