Lyne Marshall has three published books. They are all A4, 80 page, full color books and available for purchase on the Art Clique books site. For all creative people these books give an insight into the artistic mind and have many testimonials to the way they have assisted others to find creative direction. A brief overview is below…
1.  Harnessing the Power of the CREATIVE SPIRAL – the newest book which addresses the cyclic nature of art and life, and the way there is a seemingly invisible organic structure, a spiral, that continues its upwards crusade in the course of realising original vision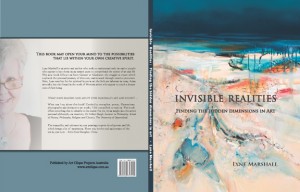 2. Invisible Realities: Finding the Hidden Dimensions in Art – investigates the many layers that make up an artwork and explores the journey of the inner  artist.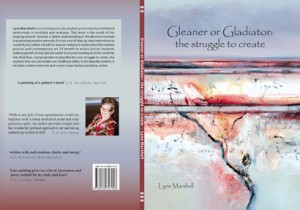 3. Gleaner or Gladiator: The Struggle  to Create is currently available as an ebook. It was Lyne's first book which arose out of her personal research into the ways of the elusive and mysterious creative process as experienced within the art studio.
AVAILABILITY
The books are available from ArtClique – $44 posted within Australia and to NZ. $55 posted to other countries. Buy through Pay Pal or personally by Credit Card via phone.  For more details contact Lyne on the Blog CONTACT Form. These books are also available  from selected bookshops, art shops and Regional Galleries around Australia including the National Gallery bookshop in Canberra, The Queensland Art Gallery and GOMA in Brisbane and as far afield as Cairns in North Qld, Busselton in W.A, Burnie in Tasmania  and Reyburn House in Whangarei New Zealand.
Scroll to the bottom of the page to see current venues near you who stock the new book Harnessing the Power of the CREATIVE SPIRAL. Most of these venues also stock the other two books.
Read the TESTIMONIES and  BUY NOW – Pdf's from the books are on Art Clique
See other  AUSTRALIAN and NEW ZEALAND VENUES LISTED BELOW
BRISBANE [ 07 ]
West End – The Art Shed – Ph 07 38461330
Indooroopilly – Dymocks Bookshop– Ph 3878 5544
Paddington – Black Cat Bookshop – Ph  3367 8777
South Brisbane – Queensland Art Gallery Ph 3840 7290
Strathpine – Pine Rivers Art Gallery – Ph 3480 6941
Redcliffe City Art Gallery – Ph 3283 0415
Bribie Island Seaside Museum –  Ph  3408 0007   Gleaner book only
Logan Art Gallery – Ph 3412 5519
IPSWICH [ 07 ]
Ipswich Art Gallery Ph 3810 7222
A Lot of Books Bookshop -Ipswich Mall  Ph 07 3281 8382
TOOWOOMBA & REGION [ 07]
Toowoomba Regional Gallery – Ph 4688 6748
Murrays Art and Framing – Ph 3632 4747
Dalby – Collins Bookshop – Ph 4669 7768
Forest Hill – Cafe 4342 – Ph 5465 4147
GOLD COAST [ 07]
Varsity lakes Brendons Gallery and Picture Framing  – Ph 07 5568 0848
SUNSHINE COAST [ 07]
Caloundra – Angus and Robertson Bookshop – Ph  5491 4836
Tewantin Noosa Regional Gallery –  Ph 07 5449 5340
Mt Coolum – NEO GALLERY – Ph 07 5471 6475
Maleny – Rosetta Books – Ph 07 5435 2134
Maleny – Lift Gallery – Ph 07 5435 2302
Eumundi – Highly Strung – Ph 07 442 7044
REGIONAL QLD
Gympie Regional Gallery – Ph 07 5481 0733
Cairns Regional Gallery – Ph 07 4046 4816
Cairns – Kick Arts – Ph 07 4050 9496
Mackay – ArtSpace – Ph 07 4961 9722
Bundaberg- ArtPlus Ph 07 4151 4665
Rockhampton Mi Art and Rockhampton Art Gallery
Townsville Regional Gallery
NEW SOUTH WALES [ 02]
Bega Candelo Books Ph 02 6492 3386
Mullimbimby Book Shop  – Ph 02 6684 1413
Lismore –The Book Warehouse – Ph 6621 4204
Coff's Harbour –The Book Warehouse – Ph 6651 9077
Bathurst Regional Gallery – Ph 6331 6066
Bowral – The Milk Factory Galleries – Ph 48622277
Tumbarumba – Artists Co-Op Gallery –  Ph 6948 3600
Art Gallery of NSW Book Shop
VICTORIA [ 03]
Eltham – Victorian Artist  Supplies – Ph 9439 8798
Healesville – The Artist's Lounge _ Ph 5962 515
CANBERRA [ 02 ]
The National Gallery Bookshop -Ph 6240 6420
Manuka – The Paperchain Bookshop Ph 6295 6723
TASMANIA [ 03]
Burnie Regional Gallery – Ph 6430 5875
Launceston – Fullers Bookshop – Ph 6334 8499
WESTERN AUSTRALIA [ 08 ]
Perth Boffins Bookshop 08 9321 5755
Perth Jacksons Drawing Supplies Midland 08 9274 4964
Margaret River Yallingup Galleries  08 97552372
Fremantle New Edition Bookshop  08 9335 2383
Geralton Regional Gallery – Ph 9964 7170
Busselton – Art Geo Gallery – Ph 9751 4651
Broome – Art House Framing – 9193 5244
Esperance Old Courthouse Art and Framing M 0428 759 042
Albany Gallery 500 Framers and Art Supplies  08 98415824
Denmark Tea House Books 08 98481801
SOUTH AUSTRALIA [ 08]
Adelaide- The Art Gallery of South Australia – Ph 8207 7000
NORTHERN TERRITORY
Darwin – Jackson's Drawing Supplies – Ph 08 89812779

NEW  ZEALAND
Whangeria –Reyburn House Gallery – Ph  09 438 3074
LIBRARY / SCHOOL SUPPLIES/ ART & BOOK SHOP SUPPLIES
Art Clique Projects – Ph 07 5426 8428
Peter Pal Library Supplies – Ph 3806 1155
James Bennett Library Suppliers – Ph 02 9986 7000
Oxlades Art and School Supplies -Pam Mob 0411 139 142
NEEF AUSTRALIA  Ph 03 9804 3404
The Art Scene Sydney – Ph 02 9807 6900
DA Books – Ph 03 9210 7777